Last Thursday (March 4th) we were treated to an excellent seminar with Professor Elizabeth Anderson focusing on her work on The Great Reversal. This is a revisitation of Weber's famous thesis on the Protestant Ethic and the Spirit of Capitalism that our modern secular cult of work has its roots in theology. Generally this has been articulated in a grim and pessimistic manner – if we do not work our lives have no inherent worth.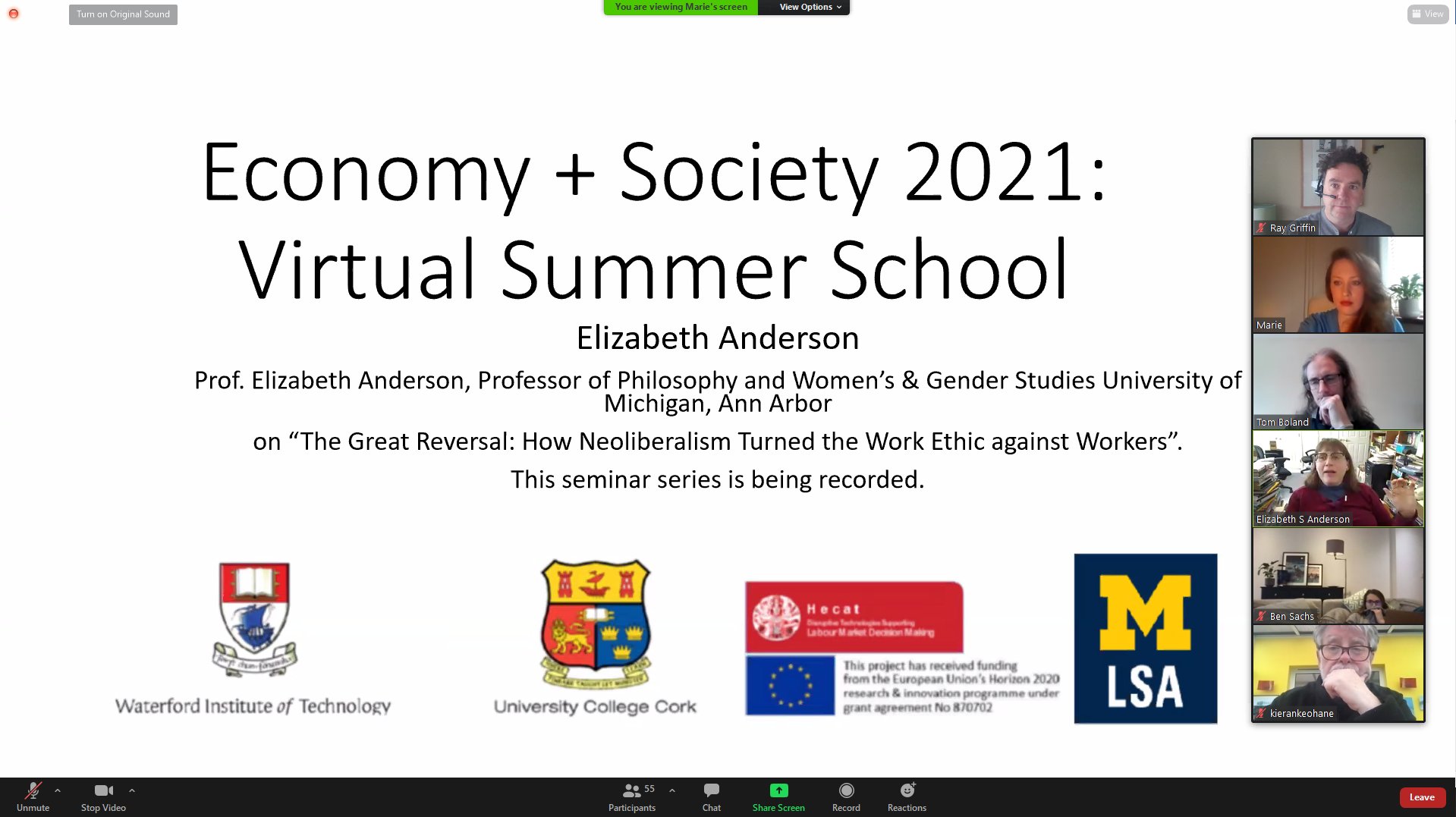 But Professor Anderson, through detailed and expansive readings which stretch from the 17th century to our modern era argues that there is a more positive work ethic which has been concealed by most modern visions of work. In particular, this has been used against workers to convince them that it is virtuous to work long hours, not to take sick days, not to complain, join unions, compare salaries etc. as these would evidence a poor work ethic.
To the contrary – Prof. Anderson has unearthed that many of the original incarnations of the work ethic espoused the importance of equality, of rest, of reflection, of fair treatment. In her dialogue with Dr. Tom Boland (UCC), one of the most interesting ideas she outlined were those of Richard Baxter, a 17th century theological and Puritan. Among other things, Baxter formulated a vision of work that claimed 'work' as a specific category. There are many ways to make money, but according to Baxter, and others like him who came from a predominately Puritan background – something only counts as work if it enhances the welfare of our fellow human beings. Baxter suggested or stated that landlordism, financiers (etc.) were not doing work – though they did make quite a lot of money.
This move to recapture a more socially salient vision of the work ethic could not be more timely, as we live in an era when the gig economy and precarious work are becoming normalized, and we increasingly see people having to work two, or even three jobs just to survive. Prof. Andersons work has implications for those who want to not only understand our contemporary work ethic, but to develop an imaginary of a different kind of work ethic – which was articulated as early as the 17th century.