Angus Bancroft. April 29th 2021 10:00 GMT.
This morning we had the pleasure of hearing from Angus Bancroft, and his research on illicit cryptomarkets – particularly as they relate to the sales and purchases of drugs, and the moral economies that surround these exchanges.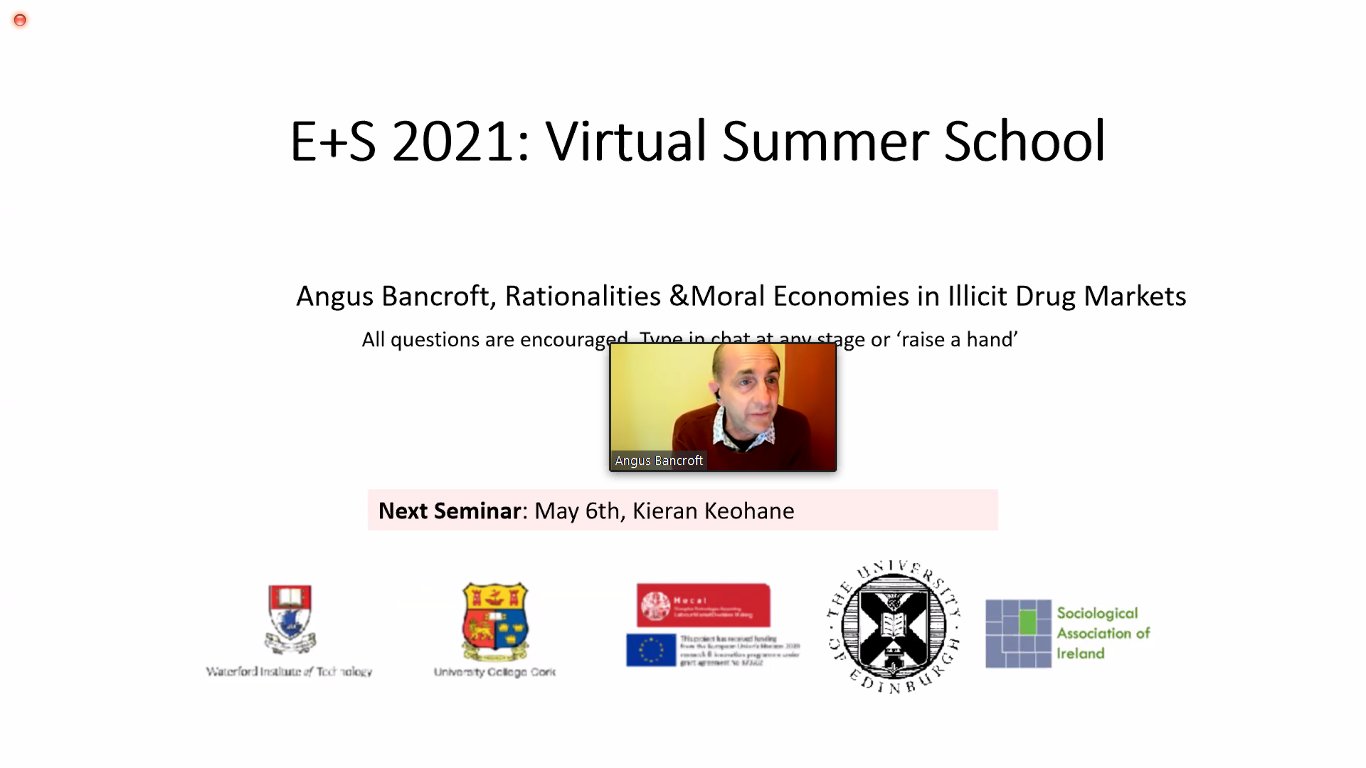 Angus was introduced by John O'Brien, a longtime member of the summer school whose research focuses on alcohol and the night time economy. John began the seminar by asking Angus what exactly a cryptomarket is. Angus responded that these are digital forums hosted on the Tor darknet, and predominately (but not exclusively) these forums trade in illicit substances. Generally users of these markets will only accept payment in the form of cryptocurrency such as bitcoin. This makes the trades and exchanges untraceable, and correspondingly makes these market spaces resilient to oversight or regulation.
As Angus explained, it is the very illicit nature of these spaces which makes them highly moral. Rather than feeding into expectations we may have about cut throat, hyper competitive spaces – these markets instead exhibit a powerful sense of trust and reciprocity. The buyers and sellers know one another, and know who to avoid. When new users enter the space, they must put in considerable effort to show they are trustworthy and build networks and relationships with other users. This has grown these markets from their original incarnation as a kind of eBay buy and sell system, into a fully fledged social ecosystem.
Previous versions of cryptomarkets were less technically advanced and more centralized. The organizers or administrators of the page in question knew who everyone was and took a cut of every trade. This was vulnerable to infiltration, stings, or simply buyouts by other cryptomarkets. The markets have evolved to reduce these vulnerabilities.
When we think about a market, we likely think about contracts and their enforcement by some kind of supra-organisation such as a State. Angus argues that his research demonstrates that this is not necessary for a functional market. Rather, it is the cultural and social ecosystem, the networks of trust, responsibility, and reciprocity which build up that define a market and enable it to function. If there is no trust in a market, if the participants believe that all of the other participants are going to betray them, then the market will be dysfunctional and will not work. Users of cryptomarkets then have a powerful sense of shared community and understanding. Even if they have different specific goals, and do not trust everyone, they still have a sense of togetherness and belonging.
This is built through reciprocity, despite their anonymous nature people wish to build a good reputation. They feel a moral need to be accountable, but this does not necessarily mean they are nice. Angus outlined instances where users had introduced drugs such as fentanyl to the market, which is good for them, but can be problematic for other buyers and sellers. This extends to debt. A debt in these markets is not usually seen as an asset which can be cashed in, but rather as a moral and social entanglement. Some debt may be forgiven and the debtor will be allowed to make smaller more manageable payments because the creditor wishes to keep them on as a client for the future.
Likewise cryptomarkets have produced an emphasis on harm reduction. Reputable sellers will provide information on how to deal with an overdose, how to deal with addiction, with side effects, recommendations on how to use the drug, what effects to expect, other advice such as not using alone. Market logics can however act against this harm reduction. Many sellers find the tendency to make many small sales to many buyers overwhelming. Some sellers counter this by only selling in large quantities to a select few buyers, but this also increases harm potential. Large drug sales are more dangerous than smaller sales. This creates risk for both parties, but is lucrative for the seller.
Angus finished his discussion by reflecting on how crytomarkets ensure quality. Sellers often become frustrated by the customer service aspect of the transactions. Someone who did not get their package or who questions the quality of the drugs they receive etc. become time consuming. Many sellers reflected that they got into cryptomarkets to be drug dealers, not to become involved in complex human resources disputes.