This past Friday (September 25th) we had our first consortium meeting with all of our partners present since our project first launched in February – which feels like it was a lifetime ago now!

Originally our entire consortium was to meet in person once each year, but at our launch (pictured above) we realised that it would be essential for us to meet more often. We decided to meet twice a year instead and the first of these meetings was to take place in late September in Copenhagen. A space was provisionally booked for us by our members in Copenhagen, but alas it was not to be as the second wave of the pandemic has struck us and we continue to deal with the consequences and fallout. We decided that it would be best to compress our meeting into a single day, and so we began at 8am (CET) and finished at 4pm (CET).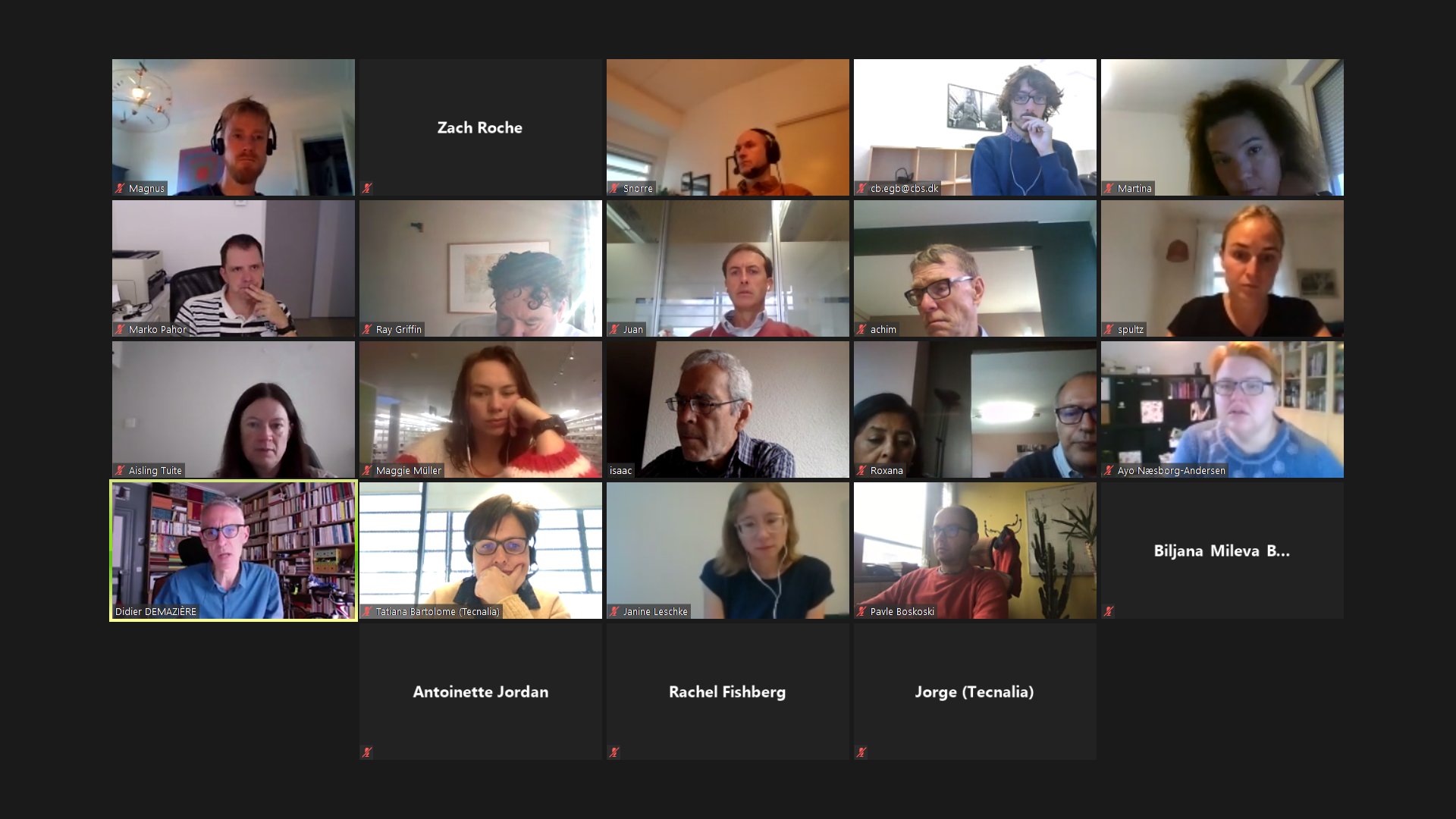 The entire meeting was live tweeted, so if you would like a summary, check out this thread. We would like to thank all of our partners for taking the time to join in and contribute and in particular to all those who presented their ongoing research.
The meeting was very productive and many issues were threshed out that had been germinating for some time. Our project is currently at a crossroads of a sort, as we are now closely examining what the exact form of our algorithm will be. Much of the discussion in the third and fourth block (see the schedule above) were given over to this. In effect we are looking at two different approaches:
First – we build an algorithm relatively similar to what already exists in the world of profiling. Profiling uses computerised data analysis to discover patterns that may not have been apparent from a qualitative or subjective analysis. One of the common results from existing unemployment profiling techniques is the 'scarring' effect of unemployment when unemployment lasts longer than a defined period. In short, these algorithms have found that if a person is unemployed longer than 6-12 months, then it is likely that they will continue to be unemployed.
If we were to adopt this approach, and build our algorithm ethically we believe that it would be essential to have an efficacy greater than what currently exists (which maxes out at around 80%). Further we would need to resist the impulse to reduce unemployment and unemployed people to a single number, and to instead have a variety of data available which gets into the nitty gritty of the labour market.
The second approach would be to build a tool that would enable us to visualise, or "see" the labour market.
We would achieve this by focusing on a different kind of analysis – network flow and micro data analysis. Rather than attempting to profile people based on their geography, traits, characteristics (age, gender, race, class, etc.) we would instead look at what is happening in the labour market. For example we collect a huge amount of highly detailed data on unemployment, in most countries we know how many people are unemployed, how much money they get, how long they have been unemployed, and what kind of supports or services are available to them (or indeed, that they are forced to use). We know about this data because journalists and academics frequently write about it, and the data is published publicly.
By contrast we know very little about what happens when someone is employed. We do not know where they go, what they do, the quality of the work (etc.). For a simple comparison, in Ireland we have full detail on the property market, because after the global financial crisis the government established the Property Services Residential Authority. This authority tracks and records every house that is bought and sold across the Republic of Ireland, and because of this we can see how prices are changing in particular areas, and which areas are booming and which areas are struggling to sell. No such tool exists for the labour market, and so the second approach we could pursue would be to create one. By using this tool, a person would be able to see when people become employed, and for what job (anonymously of course!).
The meeting of our steering group made some progress in this vein, but we are not decided yet on whether we will make a more sophisticated and ethical profiling algorithm, or a tool which will enable us to visualise the labour market.
All in all it was a very productive meeting, but it is fair to say that 8 hours on zoom was a challenge and we would have preferred to have met in person. Unfortunately it is not yet safe, but when we meet again in 6 months we are all crossing our fingers that it will be possible to do so face-to-face.