Elizabeth Anderson – March 4th 2021 – 16:00 GMT
Abstract:
Elizabeth Anderson – John Dewey Distinguished University Professor of Philosophy and Women's & Gender Studies
University of Michigan, Ann Arbor
Drawing from my book manuscript on the history of the Protestant work ethic from its origins in the mid-17th century to the 21st century.
I argue that contemporary neoliberalism in the U.S. today, and to a lesser extent in the U.K. and other European states, amounts to a continuation of a harsh, exploitative version of the work ethic developed by advocates of capitalism in the late 18th century, which I call the "conservative" work ethic.
However, there was also a pro-worker, "progressive" version of the work ethic found in the history of classical political economy, reflected in the work of Locke, Smith, Ricardian socialists, James and John Stuart Mill, Marx, Eduard Bernstein, and social democrats.
These selections focus on one aspect of the conservative work ethic, developed by Bentham and focusing on the criminalization of poverty and consignment of the poor to forced labor.
Elizabeth Anderson is Arthur F. Thurnau Professor and John Dewey Distinguished University Professor of Philosophy and Women's & Gender Studies at University of Michigan, Ann Arbor. In 1987, she earned her Ph.D. in Philosophy from Harvard University, and joined the Philosophy Department at University of Michigan.
Professor Anderson designed University of Michigan's Philosophy, Politics, and Economics program, and was its founding director. She has won fellowships from the ACLS and Guggenheim Foundations, was elected to the American Academy of Arts and Sciences and the British Academy, served as President of the Central Division of the American Philosophical Association, and is a 2019 MacArthur Fellow.
She is the author of Value in Ethics and Economics (Harvard UP, 1993), The Imperative of Integration (Princeton UP, 2010), Private Government (How Employers Rule our Lives, and Why We Don't Talk About It) (Princeton UP, 2017) and numerous, widely reprinted articles in journals of philosophy, law, and economics. She specializes in moral and political philosophy, social and feminist epistemology, and the philosophy of the social sciences.
She has written extensively on egalitarianism, the interaction of facts and values in social science research, the intersection of democratic theory and social epistemology, and pragmatism. Her current research reconsiders the history of the Protestant work ethic from the 17th century to 21st century neoliberalism, including the impact of the work ethic on classical political economy and public policy, including welfare policy, labor rights, and regulation.
Recap:
Each seminar was recorded and featured one or more readings, please find these below.
Click here to view the recording.
Last Thursday (March 4th) we were treated to an excellent seminar with Professor Elizabeth Anderson focusing on her work on The Great Reversal. This is a revisitation of Weber's famous thesis on the Protestant Ethic and the Spirit of Capitalism that our modern secular cult of work has its roots in theology. Generally this has been articulated in a grim and pessimistic manner – if we do not work our lives have no inherent worth.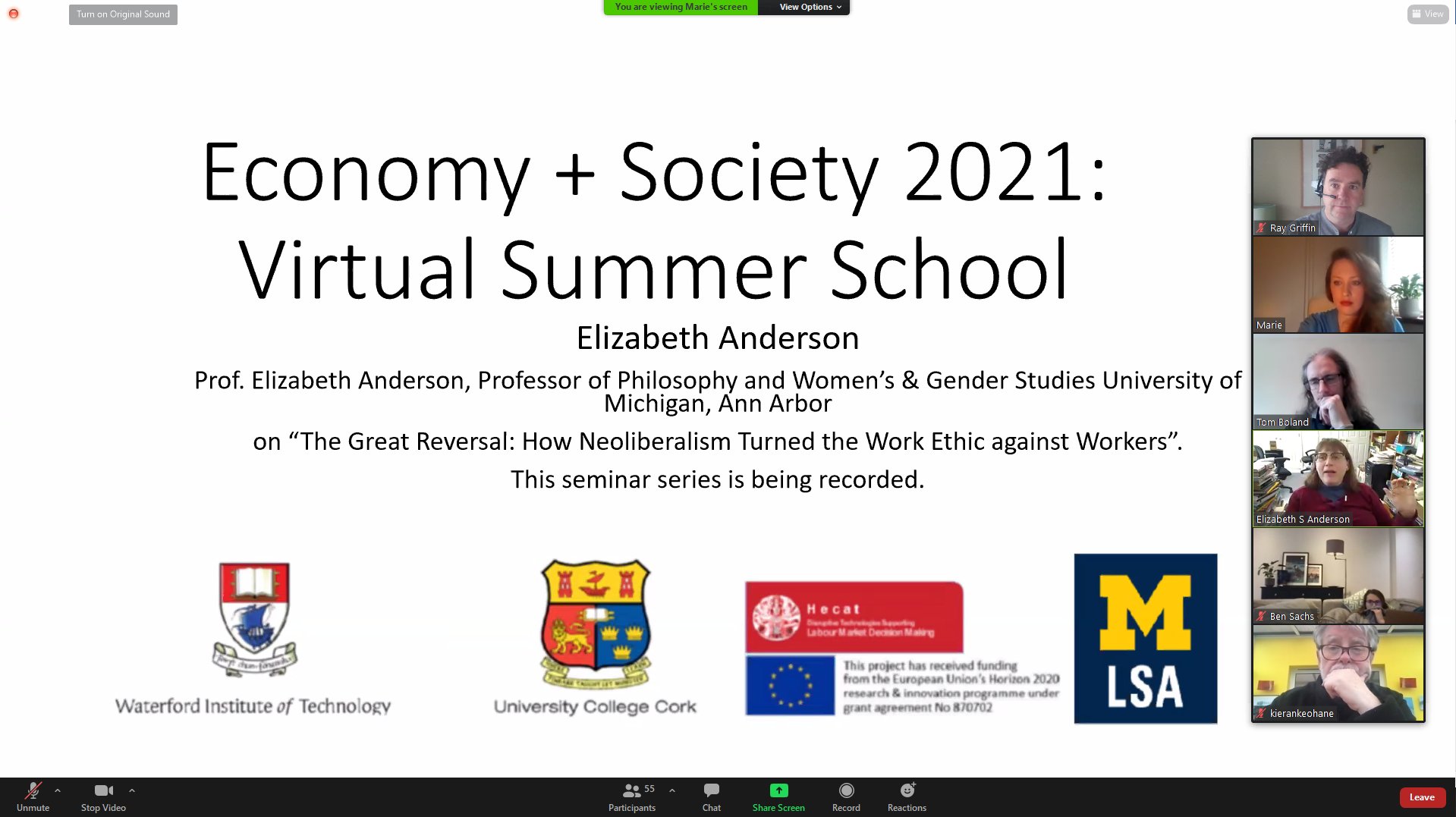 But Professor Anderson, through detailed and expansive readings which stretch from the 17th century to our modern era argues that there is a more positive work ethic which has been concealed by most modern visions of work. In particular, this has been used against workers to convince them that it is virtuous to work long hours, not to take sick days, not to complain, join unions, compare salaries etc. as these would evidence a poor work ethic.
To the contrary – Prof. Anderson has unearthed that many of the original incarnations of the work ethic espoused the importance of equality, of rest, of reflection, of fair treatment. In her dialogue with Dr. Tom Boland (UCC), one of the most interesting ideas she outlined were those of Richard Baxter, a 17th century theological and Puritan. Among other things, Baxter formulated a vision of work that claimed 'work' as a specific category. There are many ways to make money, but according to Baxter, and others like him who came from a predominately Puritan background – something only counts as work if it enhances the welfare of our fellow human beings. Baxter suggested or stated that landlordism, financiers (etc.) were not doing work – though they did make quite a lot of money.
This move to recapture a more socially salient vision of the work ethic could not be more timely, as we live in an era when the gig economy and precarious work are becoming normalized, and we increasingly see people having to work two, or even three jobs just to survive. Prof. Andersons work has implications for those who want to not only understand our contemporary work ethic, but to develop an imaginary of a different kind of work ethic – which was articulated as early as the 17th century.
Previous seminar: Lynne Layton and Nidesh Lawtoo – Ideas Lying Around.
Next Seminar: Stefan Schwarzkopf – Economic Theology Markets and Marketisation.
The Economy and Society Digital Summer School 2021